SEO?
What?
This is the reaction you are more likely to get, when you try to bamboozle the Business owner with your tricky SEO jargons.
…But let me tell you this, SEO (search engine optimization) is not as complex as most Gurus lay out in front of you.
So why SEO?
Here is the story:
Most entrepreneurs believe that having a brick and mortar company with Great Products is enough to start the flow of sales.
Well, that's true for the in large extent, but it's not the whole truth.
If you are just stuck with your company and not focusing on SEO, you are more likely to miss out the 45% digital buyers that search for your product.
What is Local SEO?
This is a highly specific technique where you offer services to a specific place where your audience are super niche specific.
Most business owner fall into the hole, when they start targeting the wrong audience doomed to FAILURE.
But with local seo, you need to target the specific geo location making it more easier to compete.
Why local SEO a must for Small Business Owners?
Less Competition
When you go local, the range of your competition is minimised.
That gives the local company an opportunity to rank on the top 5 search results with less SEO efforts.
With local SEO, you are fighting for a product on a specific level rather than a product that sells on a national territory.
For example: If you sell baby diapers in New Jersey. You may want to target keywords like – (brand name) + baby diapers in New Jersey rather than targeting broader term like baby diapers.
Here are the screenshots where you will see completely different results when you use local keywords vs brand keyword.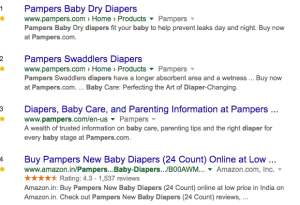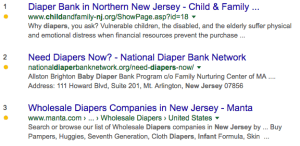 Yes! You may have less people buying it. But at least they are your relevant audience.
Having 500 appropriate customers is better than having 5000 customers that has nothing to do with your products.
Getting Local is proportional to higher purchasing decision
If someone searches a product entering the local based keywords, he/she is more likely in the mood of buying the product.
Whereas if a person is just searching a generic keywords, he/she might be highly driven by information hunger.
For example: If someone searches baby diapers in New Jersey, he/she is in the mood of buying the product. But if the person searches for baby diapers, he/she might be searching for information rather than purchasing it.
So local targeted keywords has more purchasing power than a generic or nationwide keyword.
Mobile Centric
Since the use of mobile for Google searches has exceeded the desktop, it has become more vital to optimise your local website for mobile users.
The landscape of search is changing rapidly.
…And search engines like Google is doing its best to track down user's location & search history to enhance the user experience.
Their algo is set up in a way that offers the users the results that are localized. For Instance: If I'm in New York, and I search for pizza. Google predicts that I'm looking for pizza station in New York rather than looking for historical answers of how pizza was developed in Wikipedia.
With these factors coming into play, it becomes more essential for business owners to target their business locally which gives them better chance to sales.
The Rule of Google's 3 Pack Book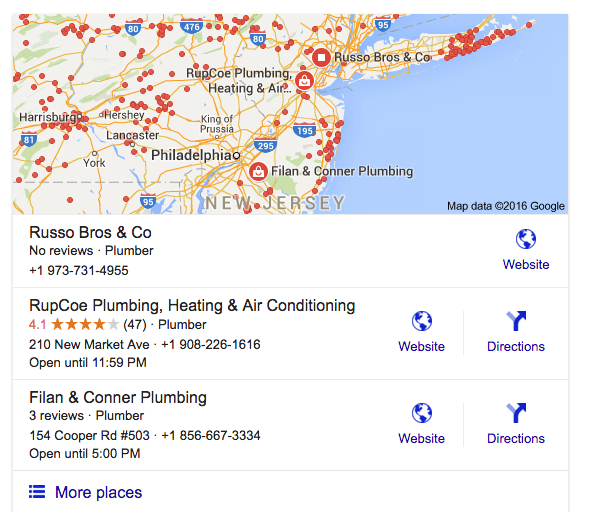 Google has always been supportive with the local business by offering its Map pack. A pack is the middle section between Google Ads and organic search results offered by Google for the business owners. Google offers easy map navigation for the users searching for the local services.
However In 2015, we saw Google's snack pack shake-up. The 7 pack changed into 3 pack.
This change took a lot of webmasters by surprise which meant more efforts was needed to fight for the 3 pack place.
But still with 3 pack around the circle, you can enter the zone with consistent NAP (Name, address, phone) integration and good reviews from your customers.
Being Localized offers more opportunity for PR

It doesn't take a huge effort to get under the radar of local news sites. If you had to be featured on PR nationwide, you need to create an exceptional work. But tuning into local scenes can be butter, if you can produce valuable content in a consistent basis.
And if you are picked up a local newspaper or an entrepreneur, you will get tons of exposure for your business leading to wide range of customers.
Best Practises for Local Search Optimization
Get cited among top citation sources like Fourpages, Manta etc & make sure you have the exact NAP in every sources. Since Google cares about citations, you need to build local citation with consisistency.You don't want to end up with different company name or address.
Optimize your Google My Business Page as well as G+ page. Fill out every details asked in GMB with consistency in the mind. Throw down unique and valuable content every now and then in your G+ page. Always ask your customers to leave a review on your page after they receive service from you. It enhances the chance of your site popping up in the Local Pack.
Always start with keyword research. It's foundation of any online business. No matter how much competitor research you do, if you suck at keyword research, your business are destined to doom. Add your location to your keyword. For example: Airport taxi in minneapolis. This has more value than taxi service.
Take a time out to check your site's on page. Don't create a messy site architecture that gets search engines as well as users all confused. Check the URL structure of your site. Make sure you haven't used any parameters or underscores in your site
Conclusion
These are some basic tips that can help you get started on your local online marketing. There is more to this field but at the end it all falls to how you take the marketing till the end.
One tip for the local entrepreneurs would be to always have a long term plan. A long term plan fully focused on the goal will help you leverage your business tactics prominently on the online world resulting in success.
Bottomline – Doesn't matter you own a small shop or a multi-millionaire business, you need the route of digital marketing to leverage the full potential of your business.