Base Camp Adventure is a leading trek and tour operator in Kathmandu, Nepal. The company specialises in private tours, small sized group treks, family travel, etc. in Nepal, Bhutan and Tibet. The company is run by Shree Ram Ghimire who has decades of experience in tourism industry. He wanted to make a new website that would reflect its brand, be user-friend and SEO-friendly.
Project Goals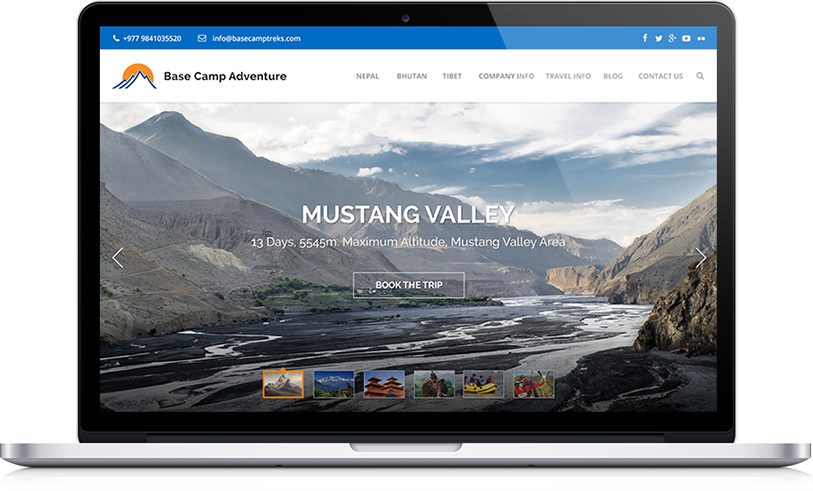 Unique and appealing design


The existing website of Base Camp Adventure was made using a template. Several other travel companies also used the same template. They wanted a fresh, unique and appealing design that would reflect the company brand.
Modern Responsive Design


With the increase in the use of mobile devices like tablets and cell phones, the website gets viewed on various screen sizes. The Base Camp Adventure website needed to be responsive, so that the website could be beautifully displayed on any screen size across operating systems from Android to iOS.
SEO friendly Features


The Company wanted a strong online presence and wanted to market the website through a strong Search Engine optimization (SEO). They required SEO friendly features in the website to compliment their SEO strategies.
Great User experience


They were looking for a user-friendly website that users would find easy to use and navigate easily from one page to another. The website also needed to have all the Call to Action (CTA) buttons distinctly displayed so that users could contact via the website.
The Challenges
The challenge was to make a unique design for Base Camp Adventure to reflect its brand and provide a great user experience. Each trip page on the website has lots of content and it was important to organize them in such a way that users could easily and smoothly find the information they are looking for.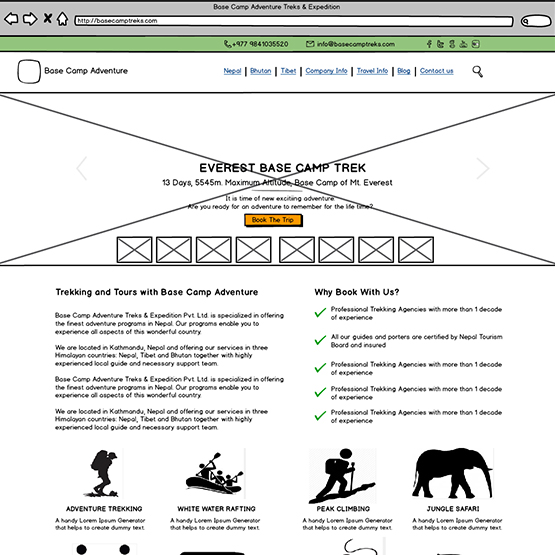 The Solutions
Our creative designer made a unique design for Base Camp Adventure, which got approved after one minor change. We used a nice typography in the website so that the contents are highly readable and engaging.
Like many other websites, we used WordPress as Content Management System (CMS) as it is a robust, user-friendly and SEO-friendly CMS.
We used Bootstrap for responsive design and made responsive design to display the content nicely in a wide range of mobile devices regardless of the operating systems.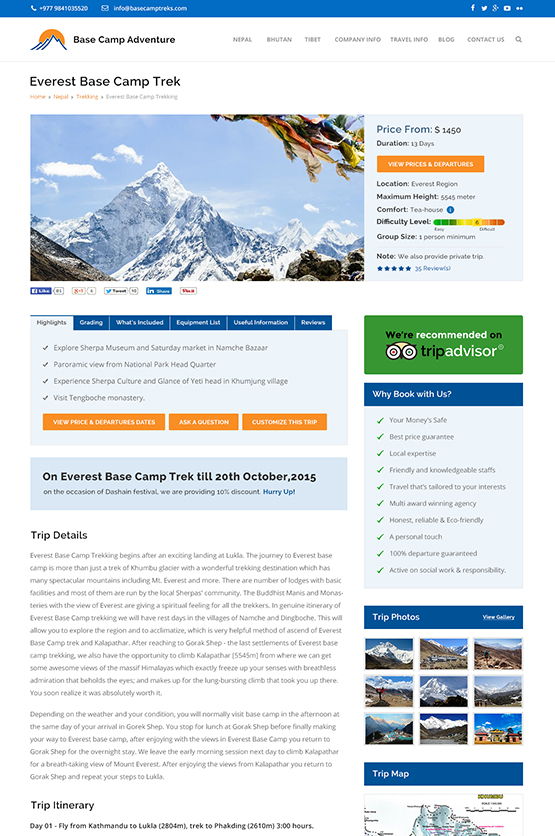 The Result
The Base Camp Adventure's website now looks great and displays travel packages and other information nicely in wide ranges of screen sizes – Desktops, laptops, tablets and phones.
The website has all the SEO-friendly features. The contents are highly readable and navigation is smooth. The Call to Action (CTA) buttons are clear and distinct.