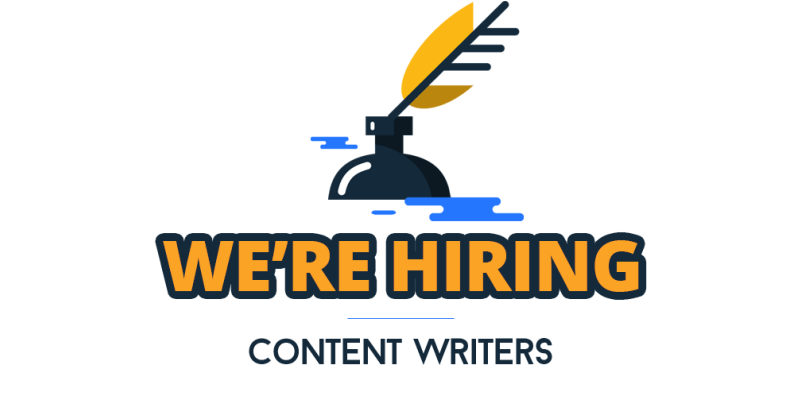 Hiring Content Writer and Editors
Codewing Solutions, the company behind world-class products like Rara Theme and WP Travel Engine, is looking for 10 Content Writers and 3 Editors for blogging.
The content you write will be read by thousands of people from all around the world.
You will be working directly with the founder, editorial and marketing team. As such, you will participate in building world-class blogs from Nepal.
The job involves doing online research and writing content in text. But it isn't as easy as it looks.
You will need to engage readers using copy-writing techniques. The contents should be so good that readers won't feel bored reading even 3,000 words articles.
You will also need to implement SEO techniques so that the articles perform well in search engines.
We will provide you with training and crystal clear guidelines to perform the task.
You should be excellent in English writing and passionate about writing. More importantly, you should be self-driven, motivated and desire to learn and grow.
You're fit for this job if at least three of the following profiles matches you:
I enjoy reading English fiction or nonfiction.
I am a member of the Grammar police and constantly get into arguments with people because of it.
I spend a lot of time on the internet reading and watching videos.
I don't want to pursue a career in the field in which I've done my Bachelor's.
I earn a decent wage but hate my current job and work environment. I want to work in a place with bright people and no politics.
I love doing research and can write about a topic and own it.
The salary will largely depends on the quality of the content you can write. If you get hired, the salary will start from minimum of Rs. 15,000 and can go up-to Rs. 80,000.
We have a beautiful cozy office in Hadigaun (near Baluwatar) with free lunches, snacks, unlimited teas and coffee.
We go for 3 trips every year, explore different places and have fun.
We work only 5  days a week (Monday to Friday) and 8 hours a day (10am to 6pm but time can be adjusted according to the need).
Send an email to hire@codewing.co (NOT .COM) with your writing samples. Tell us about your passion for reading and writing and why you would be the perfect candidate for the job.
We'll take it from there.

10am - 6pm (but it can be adjusted between 8am to 7pm)